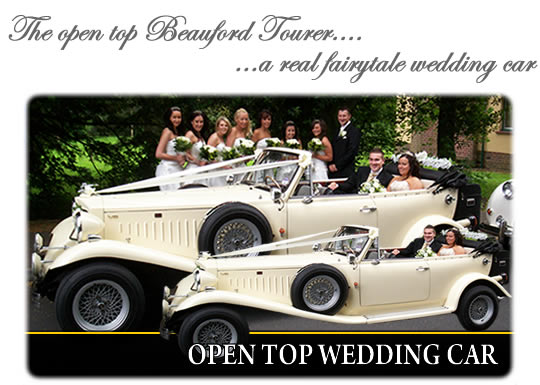 Open Top Wedding Car Hire Heywood
The Beauford Tourer is the perfect combination of modern reliability and traditional design, and is considered by many to be a 'fairytale' wedding car. Our exclusive Beauford is only available from Northwest Executive for bookings in Heywood, Leigh, Chorley, Bury, Bolton and Greater Manchester.
Our cream liveried Beauford is a custom built tourer inspired by the roadsters of the 1920s and 1930s, from a time when life wasn't so complicated and the open roads were a little less busy! Allow us to take you back to those days as we chauffeur you in style and comfort. This particular model includes all of the same design features as its pre-war counterparts, including large wheel arches, an outside spare wheel, leather seats, running boards that help with easy access to and from the vehicle, a luggage box attached to the rear and chrome lamps.
Decorative ribbons can also be attached to the car at your request.
A Beautiful Wedding Car Whatever The Weather
Our Beauford has been custom built to include a retractable hood that allows passengers to travel in the open air on good days but, should the weather take a turn for the worse, can be deployed quickly so that everyone onboard remains dry and comfortable!
Beauford Wedding Car Bookigns
For all Beauford and Heywood wedding car hire enquiries please call our friendly bookings team on FREEPHONE 0800 197 6579 or 01204 522 422, or complete the Heywood wedding car hire enquiry form and we'll reply within a short while.