Vintage Wedding Car Hire In Heywood And Lancashire
Does one of the biggest moments in your life deserve an extra special way to travel? We think so! We have two designs of classic wedding car for hire in Heywood and surrounding towns in Lancashire. Both models are genuine classics and cared for to the highest standards.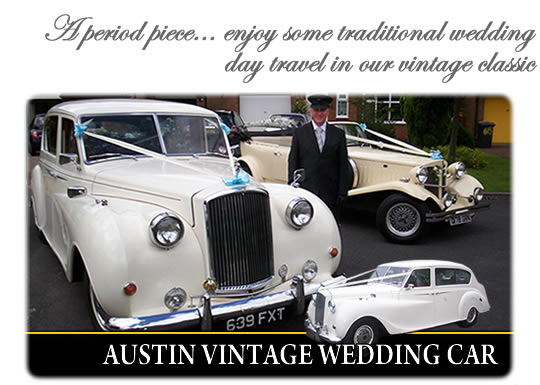 Vintage Austin
Our vintage Austin is a true classic in every sense of the word. The Austin brand became a byword for the UK car industry for more than 80 years and our white saloon represents the best in traditional British motoring. The bride will look amazing as she steps from the car en route to the Church or registry office and of course there will be time for guests to take pictures of the bride posing alongside the car or limousine in attendance.
This particular model also includes the famous flying Austin 'A' mascot proudly displayed above the front grille, while inside there is plenty of legroom and comfortable leather seats. A perfect example of a lovely chauffeur driven wedding car!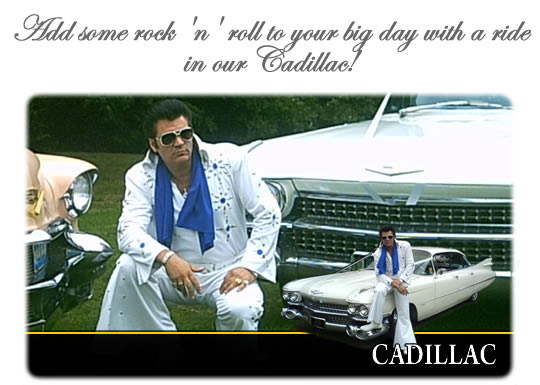 White Cadillac
When a Cadillac hits the road it doesn't go anywhere unnoticed! Simply put there is nothing to match the presence of our Cadillac, a genuine model from the days of jukeboxes, car hops on roller skates, drive in movies and mom and pop motels.
Like all Northwest Executive vehicles our Cadillac has enjoyed no expense spared servicing and features all of the hallmarks associated with this American brand; large bench leather seating, some cool retro alloys, fail fins and lots of chrome! For those looking to add a touch of rock 'n' roll to their wedding day there is also the option of booking our Elvis lookalike chauffeur!
Bookings and enquiries can be made on 0800 197 6579 or 01204 522 422 or simply complete our enquiry form and we'll get back to you in a little while!